Visitors
Welcome to Big Lake!
While many people come to Big Lake for a catered event at the historic Carousell Works, others come for the annual Spud Fest, the "Little Hole" fishing contest, or just to enjoy the beautiful outdoors.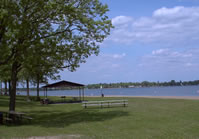 City of Big Lake
Many start by getting acquainted with the city's lakes - Big Lake and its sister Mitchell. Attached by a narrow channel, these lakes provide lots of room for swimming, fishing, and recreational boating. Lakeside Park provides the access with a swimming beach, boat launch and fishing pier. Use of the park and its amenities is free of charge, but parking is not. Frequent visitors who plan to make use of the parking facilities can purchase an annual permit at city hall.
Big Lake also has numerous other parks with a variety of recreational opportunities. The city's growing trail system provides ample opportunities for walking, bicycling and inline skating. The choice of scenery is yours - prairies and meadows, or a stroll around the lakes. Start your walk from Highline Park or Lakeside Park respectively.
Big Lake Township
Lion's Park, colocated with Big Lake Township Hall off County Road 5, is an expansive multi-use park. The park features a baseball diamond, and playground, barbecues, outdoor shelters, and a canoe launch.
If you're looking for fishing or boating the township has additional lakes for you to discover - Eagle Lake is popular for fishing and some recreational boating. Smaller lakes like Birch and Ann are also worth a look. For the sake of completeness we also mention Thompson Lake on County Road 73. Unfortunately, this lake has no public access whatsoever. See our directory of Big Lake Area Landings for more information.
As for rivers, the Elk River runs through Big Lake Township. It has one public access east of the city on 205th Avenue, and a canoe launch at Lion's Park. Both are included in our directory of Big Lake Area Landings. Although the Mississippi River hugs the southern border of the township there are no public accesses anywhere in Big Lake. Options include Ellison Park or Montissippi County Park in Monticello. East and west respectively are Babcock Memorial Rest Area in Elk River and Snuffy's Landing in Becker.
Sand Dunes State Forest
Travel to northern limits of Big Lake Township and enter the Sand Dunes State Forest off either County Road 5 or 15. There you'll discover Ann Lake Campground with its nearby swimming beach and picnic area. A variety of trails are available for hiking, horseback riding, cross-country skiing and snowmobiling.
Sherburne National Wildlife Refuge
Wildlife lovers will be drawn a bit further north to the Sherburne National Wildlife Refuge. A Sunday drive around the Wildlife Loop off County Road 5 can bring you face to face with a variety of native prairie dwellers. Those creatures that are slightly more aloof can be appreciated from the observation platforms dotting the trail. Bring your binoculars or rely on the fixed field glasses provided.
If you prefer to experience the refuge on foot you'll be headed for one of the trails off County Road 9 - Blue Hill or Mahnomen. Snowshoeing and skiing are also generally permitted. Visit the official website linked above for detailed information and regulations regarding the use of these trails.
Discover More
After a day of fun enjoy one of the many local restaurants, or find a place to spend the night so you can continue your adventure in the morning. Whatever your reason for visiting us, use this website and its many links for events, maps and additional information on experiencing Big Lake. See you soon!